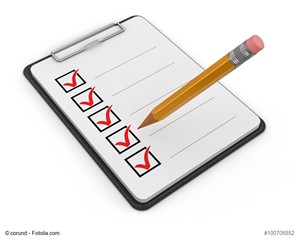 If you want to buy a house, it pays to enter the real estate market with a checklist in hand. That way, you can streamline the process of going from homebuyer to homeowner.
Now, let's take a look at three things to include in your homebuying checklist.
1. Your Budget
Your budget will dictate whether you're able to afford a condo, luxury home or something in-between. As such, you'll want to assess your finances closely as you determine exactly what type of house that you can afford.
Oftentimes, it helps to get a copy of your credit report. You are eligible to receive one free copy of your credit report annually from each of the three credit reporting bureaus (Equifax, Experian and TransUnion). If you know your credit score, you can determine whether now is a good time to enter the real estate market, or whether you should improve your credit score first.
You may want to consult with several banks and credit unions too. These financial institutions can teach you about various mortgage options and help get pre-approved for a mortgage. Then, once you have a mortgage, you'll know exactly how much you can spend on a house and tailor your home search accordingly.
2. Where You Want to Live
Living in the suburbs is very different from residing in the city. Therefore, you'll want to consider where you want to live so that you can search for a home in specific areas.
For example, if you prefer the peace and quiet of a small town, you may want to consider houses in small towns in the state of your choice. These towns may feature dozens of available homes. Plus, in many instances, small town houses are priced lower than big city residences.
Or, if you enjoy the hustle and bustle of the big city, you can search for residences in any city, at any time. These houses likely will ensure that you'll have quick, easy access to a variety of big city attractions and landmarks.
3. Real Estate Agent
There is no telling whether you're about to enter a seller's or buyer's market, as the housing sector often fluctuates. Fortunately, if you hire a real estate agent, you can increase the likelihood of a quick, successful homebuying experience, regardless of the current housing market's conditions.
A real estate agent is committed to your homebuying success and will do what it takes to help you find the right home, at the right price. He or she will learn about your homebuying goals and offer expert insights into the real estate market. Also, if you ever have homebuying concerns or questions, a real estate agent is available to address them.
For those who want to streamline the homebuying process, it helps to hire a real estate agent. And if you hire a real estate agent today, you can get the assistance that you need to make your homeownership dream come true.
Get started on your homebuying checklist, and you can simplify the process of acquiring your ideal residence.